Wednesday, September 07, 2005
PINOY LESSONS IN MEDICAL TERMS
LOL!! This was emailed to me by a friend of mine named Julia. Obviously, she got it from someone who spent his/her residency in PGH. Unfortunately, only my Filipino friends can enjoy this fully, but I've included some English translations for my other friends too ;)

---

Sa PGH, may tinatawag na Central Block. Nandoon ang Radiology Department kung saan ginagawa ang mga X-rays, Ultrasound, CT Scan at Radiotherapy. Dito ko naobserbahan ang evolution ng mga pinoy medical terms. May mga pasyente o bantay na aking nasasalubong, ang madalas magtanong ng direksyon. (There is a place named Central Block in the Philippine General Hospital where the Radiology Department is located. Thus, you can have your X-rays, Ultrasound, CT scan, and Radiotherapy done there. This is also where you can observe the evolution of Filipino medical terms.)

Mga Versions ng CT Scan: (Ganon na rin yon, no!)
1. "Dok saan po ba ang Siete Scan?"
2. "Doc saan po ba magpapa-CT Skull"
3. "Doc saan po ba CT Scalp"
4. "Doc saan po ang CT Scam?"

* Madalas akong mapagtanungan ng direction papunta sa Cobalt Room.

"Doc saan po ba ang Cobal" Yes, laging walang T,marami na ang ginagamit na term ay Cobal. Saan napunta ang "T". Marmi din kasing nagtatanong, "Doc, saan po ba ang papuntang X-Tray?"

Conclusion: Ang "T" ng Cobalt, ay napunta sa X-Tray. (The T in Cobal migrated to the X-tray)

* 7:00 am. Nagbigay ang kasamahan kong doktor ng instruction sa bantay ng pasyente, "Mister, punta po kayo sa Central Block at magpa-schedule kayo ng X-ray ng pasyente ninyo." (The doc directed the patient to go to the Central block and have the patient scheduled for an X-ray)

3:00 pm. Kadarating lang ng bantay. Nagalit na ang doktor, "Mister, bakit namang napakatagal ninyong bumalik? Pina-schedule ko lang naman ang X-ray ah." Sumagot ang bantay, "Eh kasi po Doc, ang tagal kong naghintay sa gate, haggang sabihin ng guwardiya na sarado daw po ang Central Bank kasi Sabado ngayon."
(Nasa Roxas Blvd ang Bangko Sentral ng Pilipinas, at sarado nga naman yon kapag Sabado, hihihihihi) - the guy went to the Central Bank to have the patient scheduled for an x-ray. Hmmm....

Nang mag-rotate ako as intern sa Pediatrics ng PGH, mahal na mahal talaga ng mga nanay ang kanilang mga anak na may sakit. Pilit nilang tinatandaan ang mga gamot at tawag sa sakit ng kanilang anak. (New names for old drugs/conditions that we've never heard before.)

Doktor: "Mrs. ano po ang mga gamot na iniinom ng anak niyo?"
Mrs 1: "Doc phenobarbiedoll po."
Doktor: "Ah baka po phenobarbital." (Gamot sa convulsion ang phenobarbital)

Doktor: "Mrs. ano po ba ang antibiotic na iniinom ng anak ninyo?"
Mrs 2: "Doc metromanilazole po."
Doktor: "Ah baka po metronidazole." (Gamot sa amoeba ang metronidazole)

Ang tawag sa recovery room ng PGH ay PACU (Post-Anesthesia Care
Unit)
Doktor: "Mrs., tapos na po ang operasyong ng anak ninyo, punta po kayo sa PACU.
Mrs 3: "Eh Doc, saan po sa Paco? Sa may simbahan po ba o sa may palengke? (Hmm, this is rather obscure. Paco is a place. The patient's relative was asking where to go in Paco, the church or the market?)

Doktor: "Mrs. ano po ba ang sinabi ng dating doktor kung ano daw ang sakit ng inyong anak?"
Mrs 4: "Eh Doc sabi po niya Tragedy of Fallot.
Doktor: "Ah baka po Tetralogy of Fallot (Isang congenital Heart Disease ang Tetralogy of Fallot)

Biglang nagtatarang ang isang nanay at sumigaw.
Mrs. 5: "Scissors! Scissors! Nag-sciscissors ang anak ko, Doc!"
Doktor: "Nurse, diazepam please, nag-seizure ang pasyente!

Doktor: "Mrs. ano daw po ba ang sakit ng anak ninyo?"
Mrs. 6: May ketong daw po.
In-examine ng doktor ang balat ng pasyente. Wala siyang makitang senyales ng ketong. Tumawag pa siya ng isang dermatologist para mag-examine nang husto. Wala talaga.
Doktor: "Mrs. sigurado po ba kayong ketong ang sakit ng bata?"
Mrs 6: "Eh iyon po ang sabi ng doktor niya dati. Mataas daw po ang ketong sa ihi dahil may diabetes."
Doktor: "Ah ketone po yon! (Ang positive ketone sa ihi ay senyales ng kumplikasyon ng diabetes.) - The doc asked the mother what her child was sick of. She said leprosy (ketong in tagalog). The doc--and a dermatologist that he called in--couldn't find any signs of leprosy. Finally, they asked her again, and it turned out that it was DKA.)

Doktor: (Sa buntis na mrs. na nagle-labor) "Mrs. pumutok na po ba ang panubigan mo?" (Doctor, to a pregnant woman: Mrs, has your bag of water burst?)
Mrs 7: "Eh Doc, wala naman po akong narinig na pagsabog."
(Hanep!) (Woman: I didn't hear anything explode, doc.)

Ahhhhh...okay...

---




renzguerra liberated at 10:31 am
The bill
Tuesday, September 06, 2005
THE WORLD IS UPSIDE DOWN
I just had to write about this. It just feels vertiginous to me.

Former President Cory Aquino and Future-Ex-First Lady Susan Roces (with the Estradas and the Marcoses lurking behind her) marching to Batasan to call for PGMA's resignation, thus fouling up the traffic and undoubtedly wreaking havoc with the economy in the process. That is, undoubtedly, the weirdest alliance that I have ever seen. It's surreal.

I don't think it will work. Certainly PGMA doesn't think so, because she--and her allies--presumably still blocked the impeachment process, knowingly risking such a mass uprising instead of going through her "day in court". She must be confident that so many unsuccessful rallies within such a short period means that "People Power" is losing its "Power".

I wonder what will happen if it suddenly turns out that she's wrong.
---




renzguerra liberated at 03:17 pm
The bill
Playing God
I loved to write about science fiction when I was in high school. At the time, genetic manipulation and cloning were all still in the far future. Yet, I was already obsessed with DNA, and I wondered if there would come a time when people would know how to arrange genetic building blocks in such a way that they could actually synthesize an artificial life-form.
Well, it seems that that day has arrived. Scientists have finally figured out a way to create their own virus that is able to reproduce itself when injected into living organisms.
The project was funded in part by the Department of Energy, which hopes to create microbes that would capture carbon dioxide in the atmosphere, produce hydrogen or clean the environment.
Those are laudable reasons, of course, but we all know that the road to evil is paved with good intentions. I don't think anything good can really come out of playing God like this, because there's always someone out there who wants to use the technology for their own ends.

This is how those doomsday movies always start. You'd think we've learned by now.
---




renzguerra liberated at 02:54 pm
The bill
Friday, September 02, 2005
RANDOM THOUGHTS
Sorry I haven't been updating lately. A lot of my relatives just arrived from the province, and I recently got hooked on role-playing at a fantastic Star Wars site. Role-playing? Star Wars?
Yup. I got a short-haired Nicole Kidman as my avatar (from the movie Birth), and gave her a history as a Jedi Knight. The admins at the site even made me a signature:
I don't know about you, but I think it's pretty cool. They even gave me a purple lightsaber.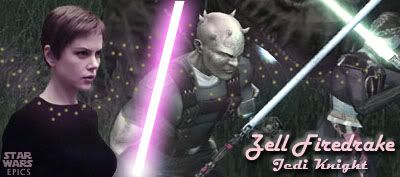 So why am I indulging in all this kidstuff?
Because pre-residency is only a few short weeks away. I can't believe it. Time flies. It
really
flies. It wasn't so long ago that I was taking the Physician Licensure exams, and yet just yesterday, the August 2005 results already came out. I would be depressed if it weren't for the fact that a lot of my old friends either passed or topped the country. I'm so proud.
*Sigh* Anyway...
Is the Washington Manual of Therapeutics enough to survive pre-residency? My friend is reading just the Medicine blue book. Both of us are sick to death of Harrison. That's just for now, but I think we're both going to end up rereading Harrison anyway. I'll hurdle that one when I need to.
I guess the real reason why my thoughts are all over the place today is because I'm sad that I won't be seeing Tomato for four days. He's on his way to the airport for a flight out to Davao even as I'm typing this. It's an official trip, and of course I've given him my full support, but that doesn't mean that I'm happy about it. I've gotten used to seeing him each and every day that I feel lost. I've told him to text me often and send lots of MMS's with voice attachments, but they won't make up for the real thing.
It's just four days, Potato, just four days...
---




renzguerra liberated at 01:31 pm
The bill
Monday, August 29, 2005
ALL IN THE IMAGINATION: PART TWO

Okay, here's another instance. And I really know the person this time, because it happened to my Dad.

He was just 29 years old at the time, and an overworked surgical resident. She and my mom had been married for only two years. I was just 1 year old, and my brother hadn't even born.

He had attended--and emceed--a big party the night before. Before the party was through, his throat was extremely sore, and not just from shouting on the microphone.

The next day, he woke up with a high temperature. Mom kept trying to convince him not to go on duty that day, but Dad refused. It was 7 in the morning, and he was just in the process of bending down to put on his socks when he suddenly went rigid.

Mom says that he then collapsed bonelessly back on the bed and started convulsing. His eyes had rolled back on their sockets, and he was foaming at the mouth. Mom barely had time to react before he abruptly quit breathing.

Mom was already a licensed nurse at the time, but the sight of Dad lying there lifelessly made her go into hysterics. Fortunately, her sister and dad's brother were staying with them at the time, so they heard her and ran to help. My uncle helped my Mom start CPR, while my aunt hollered for the neighbors. Two came, a woman dressed in a negligee and a man dressed in boxer shorts and a towel. Mom herself was dressed in pajama bottoms and an inside-out shirt. Between themselves, they managed to carry my dad from the second-floor apartment down to the street, where they miraculously flagged down a taxi within seconds.

It was extremely fortunate that the hospital where Dad trained as a resident at the time was only about 10 minutes away, and that it specialized in cases like his. However, 10 minutes is still a long time for the brain to go without air. After 4 minutes, neurons already start to die. Mom said that she saw Dad's feet turning blue from lack of oxygen as they sped to the hospital.

When they arrived at the hospital, Mom realized that she'd forgotten to bring money to pay for the cab. But her neighbors shooed her off and said they'd take care of it. How they managed it without carrying anything and wearing nightclothes, Mom never found out, but she is extremely grateful to them up to this day.

The residents and consultants at the hospital were flabbergasted when they recognized the patient. Immediately, they started CPR and did everything imaginable they could think of. In fact, they continued pumping way past the time that they usually stop with other patients.

When they finally revived him, the older consultants shook their heads and predicted catastrophic brain damage. They pitied my Mom, a young mother with a baby who was just starting her life with her husband.

Yet, my Dad was awake, alert, extubated, and talking within 48 hours. He was released from the hospital within a few days. And he topped the GS national boards with 2 months. Everyone hailed his recovery a miracle.

What's the point of this story?

At the point when he was supposedly clinically dead (which was about thirty minutes) Dad said that he felt himself going down a tunnel with a light at the end (sounds familiar?). And then, he spent the time floating among beautiful fluffy clouds, feeling very blissful and content.

Was all that just a dream? Just a figment of his imagination? Yet, he was clinically dead at the time, which means that his heart wasn't pumping, his blood wasn't flowing, and his brain certainly wasn't working. For thirty minutes.

I think that would be harder to explain with nothing more than Science and Medicine.
---




renzguerra liberated at 12:06 am
The bill
Thursday, August 25, 2005
ALL IN THE IMAGINATION
I have a friend who frequently leaves her body.

She doesn't like it, but she can't control it either.
Sometimes, she just wakes up in the middle of the night for no particular reason, then realizes that she's looking at the ceiling from a distance of about six inches. Then she looks down at the bed and realizes that
her body is still there
.
One of her most frightening stories was the time she woke up to find herself still lying down on her bed, but just beside her corporeal body. It was
as if her soul had moved in sleep, but her body had failed to follow
. The scary thing was, she could see a dark shadow on one corner of the room,
a shadow that felt like an evil, living presence
that was staring at her. My friend tried to scream, or move, or wake up, but she was frozen in place. As a last resort, she began reciting the
Lord's Prayer
over and over again. Apparently, it worked, because before the shadow could reach her, she woke up. However, she heard it whisper something to her just before it disappeared: "
I'll get you someday
."
Her stories have always left her friends concerned for her welfare. We've always believed that her experiences were
more than just nightmares
or
flights of the imagination
. As far as we know, she's a
rational person
and a doctor like us, and
not usually given to superstition
. But just to be safe (especially after we heard that last story), we told her never to sleep alone, or never to lock the door, so someone could always be on hand to wake her up. But she's a stubborn girl.
Now, psychologists in the
University of Manchester
are researching the idea that
OOBE's or Out of Body Experiences are all just in the mind. According to David Wilde, the researcher running the project, said, "There are several theories as to why people have OBEs. A common link between them is the idea that in certain circumstances the brain somehow loses touch with sensory information coming in from the body. This triggers a series of psychological mechanisms which can lead to someone having an OBE.
So does this mean that my friend has just been suffering from some sort of neurological dysfunction all these years? How then, can it be explained, that she sometimes
knew events which happened while she was supposedly asleep
? How was it possible that she
saw things, or heard conversations which were happening elsewhere
in the house? I don't think that you can explain such occurrences in a wholly scientific way. Or if it can be explained, I don't think it would be as simple as the brain just losing touch with reality.
---




renzguerra liberated at 12:20 pm
The bill
Wednesday, August 24, 2005
LOVE IS BAD FOR YOUR...WAISTLINE?
When I was in high school, my cousins teased me that I was
fat
. They even called me and my brother
"The Two Little Pigs
". Consequently, I spent my days hopping from one diet to another (the one that worked best on me was the
no-rice diet
), joining all sorts of sports despite rigorous CAT training (
basketball, badminton
, and
pingpong
), and even working out furiously on the
stationary bicycle
for up to an hour each day. My parents and friends told me that my figure was fine and in fact a little skinny, but I didn't believe them. I was almost suffering from a mild form of
anorexia nervosa
at the time. I'd look at the mirror and see this pudgy girl.
Yet, I weighed just
98 pounds
, with a waistline of
24 inches
. Ah, the good old days, only I didn't realize it at the time.
I was like that all the way through college. And then, just before I entered Med school,
romance
struck.
I'd always credited my weight gain to all the
coffee and junkfood
that I obsessively consumed during my endless nights of studying, but now I realized that
being involved with someone
at the time also contributed. Current evidence supports that
relationships
can have this effect. A Cornell University study of 1,980 married people found that women are more prone to gaining weight during the first year of marriage than men.
My ex used to be fit too, but somehow, once we got together, our diets fell apart. It didn't help that he was huge with a matching appetite; when he was in his early teens, he got a hairsbreadth away from acquiring
Diabetes Mellitus type 2
because of his weight and unhealthy eating habits. His doctor put him on a healthy kind of crash diet and ordered him to work out. A lot. That way, he was able to control his weight for several years. However,
dining out
, fastfood, and spare hours reserved for study changed all that,
for us both
.
There was another factor. In many long-term relationships, the motivation to stay thin fades, explains Edward Abramson, a professor of psychology at California State University-Chico and the author of "
Marriage Made Me Fat
." Part of the attitude shift is a waning interest in conforming to a strict beauty ideal that the male species is supposedly drawn to -- a woman in a relationship has already found a partner to love her. (excerpts from
IS LOVE MAKING YOU FAT?
)
We've always said that love is blind--that if you really love someone, factors such as
shape and size shouldn't matter
. But this doesn't give us the license to let ourselves go just because we think that our partners
shouldn't
care. (I still hear from him every now and then, and he supposedly lost all that excess weight again. Figures.)
Fortunately for me,
Tomato
happens to be a work-out buff. He said that a few years before we met
again
(long story), he gained so much weight that I wouldn't have recognized him. He also had a girlfriend then. Fortunately, he recognized the danger in time (maybe the ribbing he got from his friends had something to do with it too), and enrolled himself in a good gym. Within a few months, he was
trim
,
fit
, and proudly wearing
form-fitting shirts
everywhere.
When we got together, he dragged me along with him to the gym, to my mother's delight. I was embarrassed to go alone before, but his
cheerful
and
encouraging
presence made all the difference. So now, I'm slowly but steadily trying to lose the accumulated cellulite of eight years, not because Tomato wouldn't love me anymore if I didn't get thinner, but because
I enjoy it
and
it's good for me
. That, I think, is the best reason to do it.
Now if I can only stop snacking on those darned ubiquitous scrumptious
potato chips
...
---
This sounds as sweet as love (but not quite as fattening (I hope):

Minted Honeydew Soup - Recipe

Inspired by Summer, by Joanne Weir (Time-Life Books, 1997).
This would make a heavenly first course for a summer supper under the stars--or a refreshingly light dessert. A luscious tribute to the sweet melons ripening now, the recipe calls for only four ingredients: melon, mint, lime juice, and a dollop of honey. You don't have to cook it at all--just whiz it in a blender or food processor. The results are pure poetry.


Simple Solution:
printer friendly version If you don't have any honeydew handy, you can use any sweet melon you fancy for this simple recipe. Read it here:

2 pounds ripe melon, peeled, seeded, and cut into chunks (about 1/2 large melon)
1/4 cup fresh mint leaves
3 tablespoons freshly-squeezed lime juice (more if needed)
1 tablespoon honey
Salt to taste
Optional garnishes: fresh mint sprigs, thin lime slices

1. Process the ingredients in batches in a blender or food processor until smooth.

2. Cover and chill at least 1 hour.

3. Taste, adding additional lime juice, if necessary, and salt. Serve in individual chilled bowls, garnished with lime slices and mint sprigs, if desired.

Serves 6.




renzguerra liberated at 09:45 am
The bill
Monday, August 22, 2005
PIECES OF ME
This is how I look like when I'm simultaneously updating my blogs (8), browsing my friends' blogs, trying to keep up with the 10 RPG's (Harry Potter, Star Wars, and miscellaneous Fantasy/Sci-fi/Reality stories) that I'm currently a character in, reading/answering my email, and chatting to 3 people on the Yahoo Messenger, just when I'm running out of prepaid internet.
---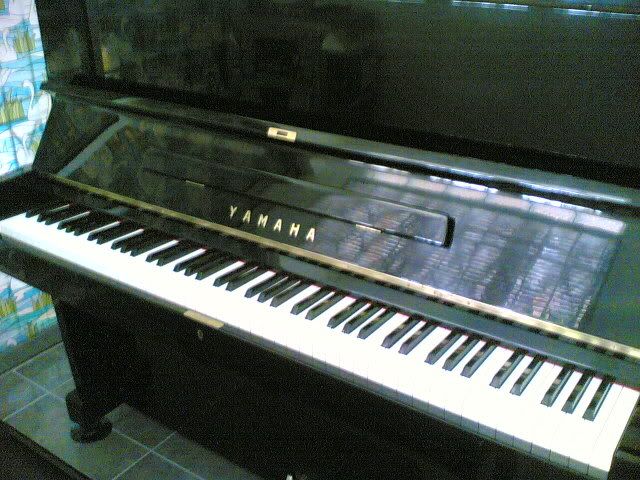 This is my new baby. Tomato's already jealous of it.

It's a shiny black Yamaha upright with 88 keys and 3 pedals. We bought it just a few days ago, on August 18. I wasn't asking for a new piano (although our old one, which I've been playing on for 18 years) has been sounding more and more metallic as of late. The old one was a Yupangco--a local version of Yamaha, and yet we were only able to sell it for 25K! (Imagine a piano being sold for 25K. That's just the price of a midlevel mobile phone!) Still, it was traded in for this new one, which I'm absolutely ecstatic with. It sounds gorgeous, with unbelievable sound and resonance. On the afternoon that it was delivered, I played for 4 hours straight, until my back, shoulders, and wrists were aching like hell. I've bought a lot of new pieces, and I'm planning to review my 7 years' classical training even for just a few months before I re-start residency. I'm mostly besotted with lyrical pieces like Canon in D and arrangements by Jim Brickman or George Winston. For local arrangers, I recommend JonJon or Boboy Bagayaua, as they're the ones who seem to be able to capture the spirit of the songs best.

---
Can man and woman still find Paradise

in the world outside the Garden of Eden?

I just bought this yesterday, and I was done reading it an hour after getting home because I was already devouring it in the car. It's a mature graphic novel portraying the extremely funny but very realistic relationships of six people who could easily be any six of us who are still lost in this world despite two decades of living in it. There are some extremely funny but graphic (in the sense that it's vividly portrayed not on paper but in your head) parts, and the humor is oftentimes cynical, toilet-related, and raunchy. Yet, nothing in it really offends (and I find a lot of things offensive), because everything plays a part in telling the story.

By the time I arrived at the last page, I was bawling like a baby, with tears of triumph and joy. And books don't make me cry easily. Nothing of Nicholas Spark's ever really moved me. In short, I highly recommend this book. It won the Manila Critics Book Circle Awards (did I get that right?). It's one of those Filipino works that I would proudly tell a foreigner: "This was written by one of us!!"

A sample review:
"After Eden is a love story that involves six people, serendipitous weather disturbances, and the minions of heaven and hell. It is, by turns, strange, hilarious and heartbreaking -- a story that somehow manages to be complex and yet pure and simple at the same time. It is also the best thing Arnold Arre has done so far, and that's really saying something, considering that he's won National Book Awards for his previous works, The Mythology Class and Trip to Tagaytay. Arnold has truths to tell about love, friendship, loyalty and betrayal, and he tells them with an eloquence -- in words and pictures -- that is all his own."
-Luis Joaquin M. Katigbak, author of Happy Endings
---
This is the finished game of Scrabble that I played with Tomato last week. I won, but just barely. We had a lot of fun tossing each other weird words, just to see if the other would accept it, since we didn't have a dictionary handy. Next time I'm going to tell him that there are new rules: medical terms will be allowed. He won't even know if I'm bluffing harharhar...
---
Lastly, here's something I really have to internalize: (from Fortitudine Vincimus)


State of Mind

If you think you are beaten, you are;
If you think you dare not, you don't!
If you'd like to win, but you think you can't,
It's almost certain you won't.

If you think you'll lose, you're lost;
For out in the world we find
Success begins with a fellow's will;
It's all in the state of mind!

If you think you're outclassed, you are;
You've got to think high to rise.
You've got to be sure of yourself
Before you 'll ever win the prize.

Life's battles don't always go
To the stronger or faster man;
But sooner or later the man who wins
Is the person who thinks he can!

Author Unknown
---







renzguerra liberated at 10:37 am
The bill
Saturday, August 20, 2005
POINTERS FROM 'THE DOCTOR'





Everyone listen up!

If you want to know exactly why so many doctors are leaving the Philippines and heading elsewhere for greener pastures, even if it's just to work as a nurse, look up the prescriptions section of FAKING IT, HARD, where you'll find the very informative comments of The Doctor. He has graciously been answering my questions back and forth regarding the situation of Medicine in the States, and I feel that his insights should be shared with the world (This is dedicated to my friends who are wondering what to do with their lives--like me).

This is his reply when I asked him about the compensation of physicians in the US, social medicine (which I'm not even familiar with, but maybe that's just me), the starting salary for a GP MD in a government hospital, and the starting salary in private practice:

"Well, as most of the world knows, MDs in the US are the best paid. Our licensing requirements are also the most strengent. First, a 4 year BS or BA is required to enter. Then you have the 4 years med school, where you must pass the NBME Parts I (end of 2nd year), II (4th year). Residence is from 3 to 7 years depending the area you choose (mine was 5) and the school. I have yet to see a 3 year Res, but they are out there. Then you must pass the NBME, Part III, and pass it every 5 years too! Then each state requires its own exam.

The pass rate for US graduates is around 95% for step 2 and 3. Where as the pass rates for foriegn graduates for each step is around 50% which translates into a total of 12.5% of applicants. I have met a number of filipino immigrant nurses here that went to med school or pharmacy school in the phillipines, but couldnt pass the required exam, but they say they dont mind as the nurse's salary of $40,000 is so much nore than the MD's salary in their country. (how far would 2.24 million pesos/year go in your country?)

You are paid during residency depending on the place you choose (or chooses you) the minimum was $2o,ooo when I graduated University and U of Michigan paid me $35,900. Now, the residencies pay about $40,000. When I finished, the starting Salary was about $125,000/ year for a Government Job and about $150,000 in the private sector (90% are private here). Last year, a Cardiogist started around $200,000. IM is much lower, at about $125,000.

Social medicine is free medicine. It is not based on income. Here we have both private as well as government sponsored health care (for the poor). If you meet poverty levels, your health care is free, but generally of lower quality (not the practioners, but this health care is acute, not preventative)."



This is my reply. I bid my Filipino/non-Filipino friends to share their own thoughts, opinions, and experiences.

"Wow. The requirements are stringent indeed. In our case, we have to go through a 4-year Science-related course, although i know some med students who graduated from extremely unrelated courses, like

Hotel and Restaurant Management

. They had to take extra science subjects, of course, but still...

Anyway, the most popular pre-med course is still

BS Biology

, though I have no idea why since it appears to be the

most useless

! The only skill I learned that I was still able to use in Medicine was

how to operate a microscope--duh

. Like that's such a big help. That's why I tell my younger friends who want to go into medicine to take up either

Med Tech or Nursing

, as these are lucrative fallbacks, with emphasis on practical expertise.

After Pre-Med, there's four years of Medicine, with the fourth year being mostly clinical rotations. The fourth year culminates with an

Integrated Test

encompassing all three years, and an

Oral Revalida.

This oral revalida is the killer, and it's only given now in the university where I graduated from, as it's been shown to be

subjective and unfair

(the admi in our university just feigns ignorance of this, I guess).

Consider: if you're an honor student and you don't get the required marks,

you don't get your award

. If you don't pass it at all,

you don't graduate

with your batch. Last year, the panel failed a student who was supposed to graduate

MAGNA CUM LAUDE

, so she wasn't even able to graduate with everyone else. That student took a leave of absence (If that were me, I might have tried to kill myself). She and about five others who thought that they had been unfairly failed

eventually sued the university

just before graduation, intending to postpone the commencement exercises. The court quickly denied their claim so the graduation was able to proceed as planned, but I think it was because the court was afraid of the uproar that the other 400 graduating students could create.

Anyway, there's

one-year internship

after that, then

3-6 years of residency

depending on the field. Here,

IM can be taken for as short as 3 years

. The funny (sad) thing is that residents are generally paid so poorly that they still have to rely on their parents (like I mentioned before, the salary can be as low as

P8,000/month or $142 dollars a month

! Pathetic!). Of course at this point, a lot of them (us) are already old enough (too old!) to start their own families (

Biological clock ticking!!

). Imagine

how hard it is to marry, rent/buy a place, raise a kid, and go through residency at once, all the while relying on your aging parents

.

That's why a lot of would-be doctors hesitate at this point, and go on to

nursing

instead (thus foregoing all those years of hard work), or study for the MLE so they can work in the States. Why? That salary you quoted for nurses--

$40,000.00 a year or P2,240,000/year (translating to about P186,000.00/month!!) is already the salary of a well-paid cardiologist/cardiac surgeon here!!

Imagine! That's a lot; more than the average person here could dream of! If a Filipino nurse didn't intend to stay away forever, she could just work in the US for 10-15 years, save up, and come home a multi-millionnaire. Or if she did intend to stay, she could petition for the rest of her family to join her, and so ensure a good future for them. (This conversation is making me faint. Maybe I

should

just go over there...dear, dear...)

Your figures for specialists are even more staggering. A cardiogist starting out at around $200,000 and an internist earning about $125,000?? I want to be a cardiologist, as it's one of the most lucrative fields, but I'd only expect to earn as much as...A NURSE working there in the US!

I don't even want to convert the figures that you quoted into pesos anymore. I might go into hysterics.

Social medicine...well we have government hospitals here, but they're extremely underfunded, understaffed, under...everything. Oh, my mistake; they're overcrowded. That's why if you're not that sick, it's a mistake to get yourself confined because you might just contract something really virulent.

The state of the "free" government hospitals are pitiful. And pathetic. Our foremost government hospital--PGH or Philippine General Hospital--is always crammed with patients. And when I say crammed, I mean crammed, like two patients per bed, etc. And they reuse equipment that are supposed to be disposable because of lack of funds. When you walk in there, it's like you're walking through purgatory, or hell. The patients stay in the emergency room for three days and die there of neglect--because the doctors are too few and at the point of collapse!

The government allots so little funds to healthcare that it's laughable. More money goes into the pork barrels that just disappear into the pockets of corrupt politicians.

Sorry. Am I ranting? Of course I am. When I think of how this country used to be before we ended up with such thieving and inept leaders (whom we ourselves voted into position, don't forget)--

*Sigh* To think that I'm already one of the lucky few who has a good chance of a future. I wonder how everyone else feels?






renzguerra liberated at 11:40 pm
The bill
Thursday, August 18, 2005
PAREHO SILANG TAMA (They're both right!)
I used to think that doctors all over the world--as long as they came from a technologically advanced or updated country--
treated their patients the same way
.
I thought that they used the same
references
, the same
standards
, and the same
diagnostic techniques
.
I thought that they gave the same
drugs
, in the same
doses
, in the same
formulations
, using fail-proof
algorithms
that pinpointed exactly who needed that drug and who didn't.
I thought that Medicine is one frontier where evidence-based knowledge and principles made sure that patients were treated as
scientifically
as possible so that there was a
minimum of conflict
among the caregivers.
I was wrong.
In fact,
disagreements
are routine among physicians in the same team, much less the same hospital. Even longtime partners
bicker
over what to order or not to order for a patient that they had been co-managing for years.
This is made official and a little less barbaric in a formal presentation staged supposedly to educate us younger colleages: the
Grand Rounds
. But listen closely, strip off the courtesy, and you'll realize that it sounds just like a
trial
, with a
prosecution
and a
defense
.
Thus it's no wonder that physicians from differing countries can manage their patients so differently, each thinking that they are doing the best for a certain condition even when they're using contradictory methods. Cases in point:


Low blood pressure is considered a sign of health in the United States, but a sign of sickness in Germany
Hysterectomies are performed infrequently in France, but is one of the most common major operations in the United States
American doctors significantly perform more cardiac bypass operations per capita than do English doctors
American doctors are more likely to be aggressive with their approach than their British colleages. Americans are likely to treat until the treatment is shown to be harmful, while the British tend to wait until the treatment has been shown to be beneficial. (All from Medicine and Culture by Lynn Payer)
And yet, the people who live in America, England, Germany, and France have equivalent life expectancy rates, meaning that even some widely divergent medical treatments don't significantly alter the course of disease. It appears that there is a wide margin for error. Our systems are actually pretty resilient.

So next time you hear your doctors arguing, don't fret right away. They might both be right, after all.

---







renzguerra liberated at 11:53 am
The bill
template © elementopia | image © istockphoto